The Ancient And Most Noble House Of Raptor
claim to be the oldest, if not first Coterie - back when the world was naught but blood and fear. The Birds of Prey are the bitter nobles of the Dreaming - old blood, angry, and close to losing their temperament at any moment. In Ancient times, The Raptors were the law-keepers and rulers of the Winged, making sure each Coterie had it's fair share. Aeons of infighting, back-stabbing, familial disputes, fractured alliances and scattered, un-communicative Eyries have resulted in The Raptors being seen as mostly stuffy, old-accustomed madmen - lethal nigh-uncontrollable madmen, but madmen none-the-less.
An Eyrie takes the form of a twisted castle upon a ruined mountaintop, all thunder and lightning. Eyries are supposedly not simply ancient, but truly primordial - castles and structures whose lower levels and deepest catacombs only scratch the age and monstrosity of these great monuments to Fear. Supposedly ancient things dwell in the deeper levels, tunnels and caves set into the Dream where only the most wayward subconscious may walk. The truths of such rumours are only known by the most stalwart and unyielding of Secretaries, and even they're not talking.
The Raptors succor Fear, human or otherwise, and thrive off it's heady resonance. Rumours abound that Raptors worship old and terrible patrons: The Gryphon, a bloodthirsty abomination of claws and hunger is often whispered in hushed tones after being spotted in Gold on an Eagle's shield.
Following the Second Parliament of The New Age, House Raptor have begun to kindly accept the deceased Lost into their number. Perished Souls who were never sent to their Patron, these Lost have escaped, and some still "live" inside a colossal Gilded Cage at the center of The Dream (previously, within the Abyss). Although many are warlike and hateful of their living descendants, many more simply want to exist outside of confinement, and The House of Raptor have given them that blessing.
5 Principles of The Raptors
Family
Honour
Respect
History
Superiority
The Raptors are heavily inspired by the nigh-uncontrollable nobles of Austen-era novels, the twisted genealogy of Mervyn Peake's Gormenghast, and Vampires in general.
Raptors can be played as creepy Gothic-Novel Nobles, Barely-restrained monster-savages, Highly-Honourable Knights In Armour or even as a Roman-Style Senate.

Raptor Bird-Song is, in my head, a mix of medieval ballads, Phantom Of The Opera, and Dio-esque Power Metal.
- - -
Information on the
many
Lost
allies of House raptor can be found on their
own page
.
- - -
Hawks
Hawks
are the minor nobles - learned, honorable and gruff, they are still only a hair's breadth from losing their cool at all times. Hawks relieve their anger by taking it out on lower peons, either verbally or beating them about with their swords. Hawks mostly serve as companions, attendants or guards for an Owl or Eagle, although all burn with a need to complete personal quests and fulfillment. Hawks are not evil, but bad-tempered, bureaucratic, officious and callous.
Hawks often wear old suits laden with dubious stains, or ancient military regalia. Hawks often carry swords or rapiers, though some prefer their Raptor Talons.
Hawks carry a grudge, or a friendship, for a long time.
Type: Pawn.
FacePaint: Brown on Nose
Plumage: Brown
Beak: Curved Brown
Emotion: Nightmares
Inspirations: Steerpike (Gormenghast), Brutus (Julius Caesar), Lancelot (Arthurian), the Vampire Lestat, Heathcliff.
Oppurtunities: Duellist, Herald, Professional Antagonist, Panderer, Slave Driver
Qualities: Fearfulism, Armoured, Swordsman
-
Kestrels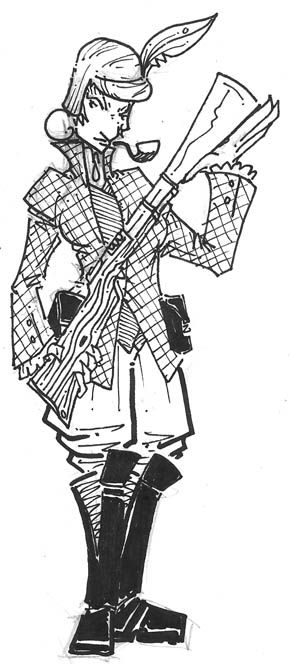 Kestrels
are natural outdoorsmen, hunters and "recreational hikers" with the air and demeanour of a country lord. Level-headed and calm compared to Hawks, Kestrels only lose their temper over territory, something they are very quick to establish off-the-cuff rules and regulations for. It is not uncommon for a Kestrel to name a chair his own or a small area of the room his Cotery's, and instantly start breathing through his nose and grinding his teeth the moment a Rabble or Duck crosses that imaginary line. Kestrels are not necessarily Cruel, but stalk with a lofty air around the Parliament, casually discussing Cotery politics with Hawks or leisurely yet cruelly dissecting a Raven's art piece, all while reloading their Rifle. Kestrels have a love-hate relationship with The Green, especially Robins, who they see as both evident Prey and capable, if not superior rivals.
Kestrels favour sensible outdoors-wear; cloth-caps, tweed-jackets, jhodpurs, hunting-regalia and sensible boots. Although some favour swords, Kestrels are very fond of Rifles, and some "even more traditional" Kestrels favour Bows. Many Kestrels enjoy the feel of a Bugle at their hip.
Type: Pawn.
Plumage: White and Brown
FacePaint: Brown Nose
Beak: Curved Brown or Yellow
Emotion: Nightmares
Oppurtunities: Hunters, Country Nobles, Snipers, Art Critics, Torturers, Chefs
Qualities: Fearfulism, Hardy, Rifleman
-
Kites
Kites
are much like Kestrels - Proud, Distinguished, Patient, Cynical and Cutting. However, unlike most of the other Raptors, who are born and created within screams of constant, foreboding Terror, Kites are born only when Raptor Coteries stray too close to Green territory, and are thus created within Wrath. Utterly humourless and without pity, Kites are constantly shaking with a cold, underlying hatred rather than simple, haughty contempt - a Kite is easily angered, and will bear a grudge with a lifelong, searing vow to destroy anything in his path to venerating himself. Like Kestrels, Kite prefer ranged weapons, in this case favouring bows. A Kite's lack of humour is often a joke in itself amongst other Raptors, resulting in some Kites being given such ironic jobs as jesters and masters of ceremonies in polite company - Secretaries think it particularly hilarious to watch a Kite go from icy neutrality at the joke's exposition to fuming rage by the punchline.
Kites favour practical clothes, close to their Green origins - Robes, Hoods, Tunics. Some where leathers and chain. They are exceptionally proficient with robins, who respect and hate them for what they are.
Type: Pawn
Plumage: Red / Brown
MakeUp: Brown Nose, Shadows around Eyes
Beak: Curved Brown or Yellow
Emotion: Wrath
Inspirations: Every Stoney-Eyed, Dead-Pan Sniper. Ever.
Oppurtunities: Hunters, Snipers, Torturers, "Jesters", Scouts, Spies
Qualities: Fearfulism, Quick, Bowman
-
Ospreys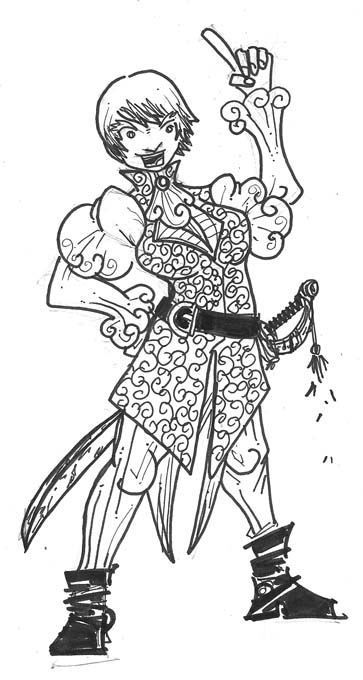 Osprey
are not popular with many Raptors. True, Kites may be as equally outsiders, with their Wrathful Origins, but at least they are not so... inquisitive as Ospreys. Ospreys are much like Hawks, except they were born when the Raptor Cotery strayed close to the proximity of The Tumult, The Sea of Emotion which is the bounty of The WaveFarers. Thus, Ospreys are born full of Adventure, but not in the swashbuckling, name-taking fashion of Hawks or the tireless, hardworking fashion of Cormorants - Ospreys are instead interested in Mysteries. Locating them, decyphering them, fighting them. And when your home is an aeons old Tower built on cthonic catacombs beyond either living memory or written history, that's a lot of Mystery to get involved in.
Unfortunately, when your fellow family are Arcane Scholars, Back-Stabbing Courtiers and Noble Kings, invading their private rooms when you're on the trail of "The Mystery of Where All Those Dreams Of Spiders Are Going" or "The Mystery Of That Horrifying Scream" and trying to get them to join in in your most chirpy, excitable voice may get on their wick slightly. As such, Ospreys are often given either menial tasks or fools errands to keep them occupied. However, Secretaries find Ospreys and their inquisitive minds fascinating, and the two Winged work very well together - investigating and exploring the Cotery's endless ageless Catacombs; standing by their Eagle, and keeping a clear head as he berates the Owls, Hawks and kestrels for their mindless bickering; or maybe just sharing a laugh playing pranks on easily wound-up targets.
Ospreys are youthful, energetic and inquisitive. Young, brash Lords and Ladies determined to get answers and have a good time getting them. They wear similar clothes to Hawks: practical shirts and waistcoats, shifts and skirts, but without the stains and marks of uncaring. An Osprey carries a sword, just in case their latest Mystery ends up being a Thrilling Duel To The Death Instead. They sometimes carry pockets of Interesting Things, taken from previous mysteries - Trophies of their successes.
Type: Pawn
Plumage: White/White+Brown
MakeUp: Yellow Nose
Beak: Curved Yellow
Emotion: Adventure
Inspirations: Young Heroes in Gothic Novels, Young Titus (Gormenghast), Every Narnia Boy or Girl
Oppurtunities: Errand Boy, "Spy", Investigator, Runner, Detective, Interrogator, Liason
Qualities: Stalwart , Quick, Swordsman
- -
Predators
Sometimes the call of cruelty appeals to a Winged whose domain is usually calmer. Predatory Winged are those who have fled their homes to become subservient to the House of Raptor. Although commonly treated as serfs, it is known for Raptors to eventually "accept" their cruel bretheren as peers, especially after proving themselves, displaying utmost heartlessness, or passing some clandestine initiation. Predatory Winged often hold a similar position to that which they did in their home, but now as a subservient to an Owl or Buzzard.
Type: Pawn
Plumage: (Based on Previous Winged)
MakeUp: (Based on Previous Winged)
Beak: (Based on Previous Winged)
Emotion: Nightmare
Qualities: Swordsman, Fearfulism, One more based on previous Winged
The Phys-repping for Predators is based on the kind of Feral bird you are, and which Coterie you fled from. Please ask and think sensibly about which kind of Predator Winged you can play.
- -
Secretary Birds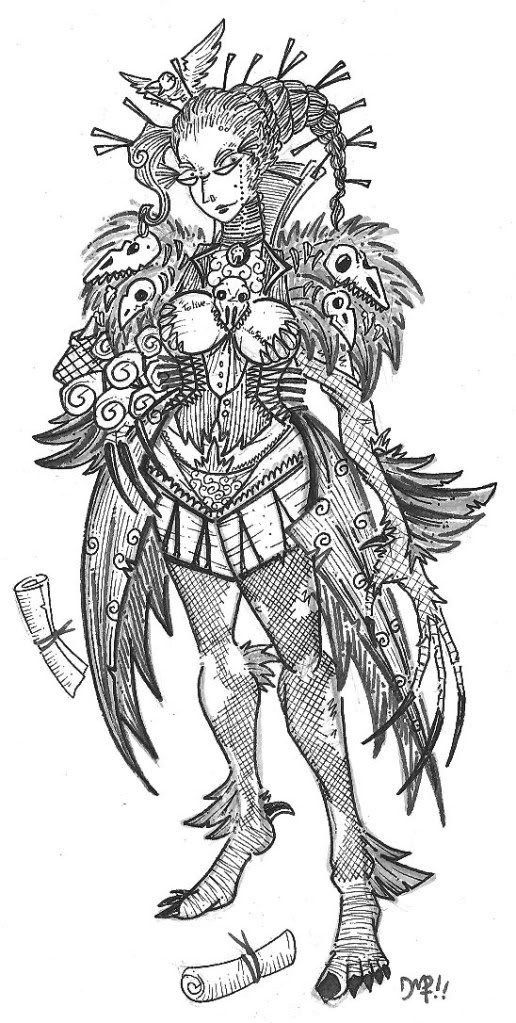 Secretaries
are strange, hunched, palid Raptors, with a reputation for skulking, stalking, and generally sneaking around Raptor Eyries with an air of Ancient and Wrong about them. Secretaries are cosnidred strange even by Raptor standards, seen as "old family friends" who no-one has told to "go away" yet. They exhibit very weird behaviour; often skulking in the shadows and walking the labyrinthine, never-explored catacombs and secret passages of the Raptor Eyries, Secretaries seem to very much enjoy not-quite-cruel, totally-immature tricks like stalking behind an unsuspecting Hawk to frighten him or putting things in an Eagle's drink. Eagles find this very endearing and treat the ancient Secretaries with great respect, as they are natural historians and librarians, good at gathering both papers and whispers around them - Owls even tolerate the palid weirdoes, looking down on their childish humour but respecting their great and ancient memories. Eagles often use Secretaries as Valets and Personal Aides, and an upset secretary will fight for an Eagle's life to the death.
Secretaries wear ancient, dusty suits that went out of fashion decades ago, and dresses of unrecognisable style - they are quite oblivious to the fact their fashioon sense is out of date, and often think they are the height of chic. Secretaries sometimes carry old swords or daggers, but most rely on their Raptor Talons.
Type: Knight
Plumage: White with Red or Black "Quills"
FacePaint: Red around Eyes
Beak: Curved White
Emotion: Nightmares
Inspiration: Orlok (Nosferatu), Uncle Fester and Lurch, Igor and Nanny (Duckula)
Oppurtunities: Bodyguard, Steward, Valet, Personal Aide, Overseer, Mobile Terror Monolith, Prankster
Qualities: Talloned, Reaverist, Fearfulism, Hardy, Hardier
- -
Buzzards
Buzzards
are simply the Hawks (and sometimes Ospreys, Kites & Kestrels) who have risen up the ranks and social strata of mediocrity & prejudice to become the Eagle's personal right hand man: Assassins, Duellists, Judicial Champions, Spokespersons. Buzzards are the Eagle's mouthpiece & Sword-hand: less spiritually calculating than The Owls, less personally dependable than The Secretaries, but far, far more importanjt, influential, and deadly than Hawks. Buzzards have tasted Wrath & Violence, and know the heady power it brings: the crimson stain on their sharp lips is permanent.
Type: Knight
FacePaint: Brown on Nose, Red on Lips
Plumage: Brown
Beak: Curved Brown
Emotion: NightmaresInspirations: Steerpike (Gormenghast), Brutus (Julius Caesar), Lancelot (Arthurian), the Vampire Lestat, Heathcliff.
Oppurtunities: Duellist, Herald, Professional Antagonist, Panderer, Slave Driver, Judicial Champion, Executioner.
Qualities: Fearfulism, Armoured, Swordsman, Hardy, Sabruer
-
Falcons
There will come a time when the catacombs of House Raptor will call out to all those of the True, Noble Blood, and even the Falcons of The Fading Eye will heed the call.
Truly Noble, adventurous, heroic, spirits of youth, the here & now, regarded by some to be the True Princes of The House Of Raptor. Creatures of Despair as opposed to Nightmare, they are more likely to dive straight into turmoil regardless of the violence, simply knowing the sadness and destruction that would be caused by their inaction. More willing to follow an Osprey than hunt with a Hawk, to listen to a Merlin than an Owl, and aid a Secretary than duel a Buzzard. Eagles see them as honourable and determined, ensuring that these Iconoclasts stay around, even if they are popularly seen as "foreign, distant cousins".
Falcons find, like Secretaries, they have some connection to the very foundations of the House of Raptor, compelled to stoop and dive into the catacombs and uncover their secrets.
Much like their Fading Eye Compatriots, Falcons still see themselves purely as male, although their new Raptor family are far more likely to make sure these new ladies act lady-like...
Type: Knight
Plumage: White or Brown
FacePaint: Blue Flames around eyes. Heavy eye make-up.
Beak: Curved White
Emotion: Despair
Inspirations: Horus (Duh), Imhotep (The Mummy), Arab Princes, Mowgli (The Jungle Book), Darth Vader
Oppurtunities: Paladin, Blackguard, Weapon of Divine Wrath, Child-Like Saviour
Qualities: Swordsman, Duellist, Fancy, Fancier, Hardy
-
Owls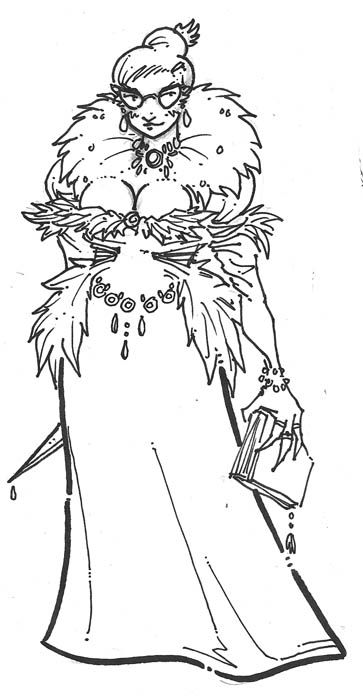 Owls
are true monsters - visibly monstrous and ever-watching, superfluously scholarly and hard-studying. Owls are famous for critiquing and preying on lesser beings to fulfil their own needs for superiority. An angered owl is a site to behold, or flee from - all claws, ruffled feathers, spitting bile and rhetoric. Owls have a reputation for studying deeper and harder than most - rumours of knowledges never-meant-to-be-learned are not uncommon. Owls are trusted deeply by their Eagles, despite what others think of them - no-one is sure if this some sinister grip the Owls have over their Lords, or some long blood bond of trust between them
Owls often wear old, fancy suits, long since forgotten to be cared for, or tattered academic robes. Owls carry small knives for letting of blood, as well as their Raptor Talons.
Type: Bishop
Plumage: Brown or White
FacePaint: Brown or White around Eyes
Beak: Small
Emotion: Nightmares
Inspirations: The Mad Arab (Cthulu) , Moriarty, Uriah Heep (David Copperfield), Elsbeth Batthory
Oppurtunities: Scholar, Personal Priest, Alchemist, Metaphysical Cartographer, All Powerful Sorceror, Supervillain
Qualities: Knifesman, Fearfulism
-
Merlins
When the Falcons heed the call to come to the House Of Raptor, so will also come The Merlins. Friendly & Earthy (while still knowing their place at the top of the Food Chain), if Owls are looking up at the Stars, Merlins are looking down at The Roots: Hedge Wizards to Owls' Arcanists. Owls practice Alchemy, Merlins Herbalism; Owls Astrology, Merlins Palm Reading; Owls in Curses, Merlins in Remedies. Superstitious like their lofty aquintances, Merlins are far more likely to sprinkle a circle of protection than invoke the power of a dark god.
Never quite as respected as the Owl Scholars, Merlins are more likely to be Nurses, Nannies, Ladies-In-Waiting, Tutors or, in some cases, specifically Seers to counterpoint, or second, the Owls' view.
Benevolent and learned, while still potentially cruel and self-righteous, Merlins are often companions to the "less horrid" side of the Raptor family, along with Ospreys, Falcons, (Some) Secretaries and (Some) Eagles.
Merlins are often placed in charge of less-Regal Raptor ceremonies - Namings, Marriages, etc. They delight in match-making and courtship, enjoying the fluctuations and heart aches almost as much as the young Raptors involved.
Type: Knight
Plumage: White or Brown
FacePaint: Brown speckles around eyes and cheeks
Beak: Curved White
Emotion: Despair
Oppurtunities: Witches, Hedge Magicians, Apothecaries, Ladies In Waiting
Qualities: Barbrisier, Emotionallist
-
Eagles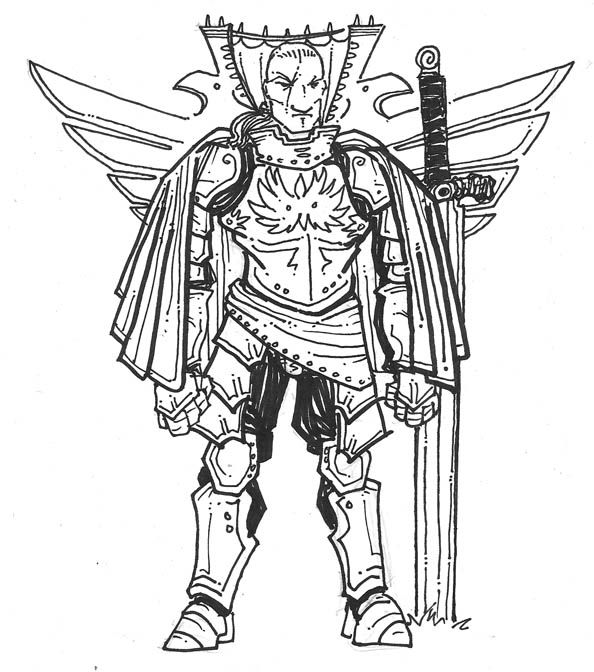 Eagles
are the Kings of The Raptors. Strong, resolute, calm and inspiring, Eagles throw the other Raptors into sharp relief. Often seen in armour wielding huge family swords, Eagles can often end an argument simply by attending. When an Eagle speaks, it is commanding, measured, elegant and powerful. When they sing, even more so. Rumours of Older, ancient Eagles, lost to their inner-rage, all gore-stained, feral and without language, are used to keep chicks in cots at night, although no source has ever proved these tales right. And if any source were to appear, it would surely be denied by the Most Noble And Ancient House, no?
Eagles often wear fancy military regalia, complete with weaponry, or full, old armour, well cared for and perfect. Eagles often carry sword and shield, but some favour huge zweihander swords or battleaxes, along with their Raptor Talons.
Type: King
Plumage: Brown / White
FacePaint: White on Forehead, Yellow on Nose
Beak: Large Curved Yellow
Emotion: Nightmares
Inspirations: Julius Caesar, King Arthur, Dracula, Vlad The Impaler, Genghis Khan
Oppurtunities: Politician, Warleader, Paladin, Divine Champion, Berserker, Savage Noble, Blackguard
Qualities: Fearfulism, Armoured , Swordsman
- -
Eagle Owl
Commonly either the offspring of an Eagle & Owl, or an Owl that has elevated their standing to Full Domination, Eagle Owls are much like the other Kings of the Raptors. Level-headed, armoured swordsmen, with a commanding presence. Unlike Eagles however, these Kings still have their kins' keen eye for mysticism. Omens, portents and auras are likely to change an Eagle Owl's mind on subjects of politics, war, or even fashion & romance. Superstitious is an understatement - to Eagle Owls, the melding of benevolence and mysticism results in a comprehensive care for any supernatural sign, and the luck, good or bad, it will bring to them or their people.
Elevated Owls are more likely to be, well, like Owls: shrewd, manipulative, yet competent and dangerous. The children of these strange pairings are more likely to take after the Eagle: strong, noble, fearless.
Type: King
Plumage: Brown / White
FacePaint: White&Brown on Forehead, Yellow&Brown around eyes.
Beak: Large Curved Yellow
Emotion: Nightmares
Qualities: Fearfulism, Armoured , Swordsman