Following the new Century's Parliaments, a schism has erupted between the Radical & Traditionalist Doves of the Church of the White Hand: The Traditionalist Doves are angered that the Church has failed to influence or intervene with the Parliament, or prevent the creation of the Red, a force even more despisable to the Peace-seeking Hand than the Green. The Radical Doves are sickened that the Hand seems to be whining about not controlling everything, and more importantly, want to choke out the Parliament's free will.
This has resulted in the Radicals breaking away to form their own faction,
The Cult Of the Pillars Of Light
, apparently aided by both Dreamers and new Patrons. Needless to say, relations between the patient Church & the Free Cult are... strained.
There is too much violence in the World Below, too much Blood in the Dirt, and Far too much Blood in The Skies. The Cult stands for unity & free-will, and offers it's hand of freedom out to help, promoting Bliss, tranquility and enlightenment. Not a single shapeless Cotery under the command of the Church, hell no! But freedom, an end to castes and pre-ordained purpose. Freewill, freedom and love, a chance to celebrate who and what you are without repercussions, only admiration.
The Cult follows one credo, brought to them by the minds of enlightened Dreamers, and the divine Patron Aiwaz, the Sheperd of Freedom:
Do What Thou Will, Shall Be The Whole Of The Law: Be true to yourself, for that is everything.
However, many Coteries see the upstart pillars as meddlers, idiots and hippy moochers unwilling to accept that Winged Survival and progression has been built on conflict. Still, The Cult keep going with their messages of Bliss & Freedom, an end to destruction and a new age of enlightenment, and grow wiser every day.

Radical
Doves have only cropped up in the last Century, and are almost entirely Pigeons (The Doves' closest siblings and allies) who have kept their materialistic, progressive ways, but have accepted the words of The White Hand and become reborn as true Doves as any other.
Radicals believe that "Us All" refered to the White Hand, and now The Cult - thus Radical sects resemble incredibly close-knit, insular families willing to defend each other and live out their existence in peace. They will happily help others they accept into their fold, but will reject aid to any others. Freedom must be achieved, not simply given or taken. Throw off the shackles of destiny!
If pushed, The Cult will accept that conflict is inevitable, but suffering can be avoided: it takes two parties to go to war, so why should one, if any, walk away scarred, if at all? Just sit down and chill out.
Dove Eyries resemble huge, ornate but simple white marble temples, sometimes enshrouded in ivy or flowers, sometimes marked with esoteric symbols. More Radical Eyries resemble rescued-but-unkempt churches, appropriated bunkers and colourful gardens.
- -
Principles of the Cult
Freedom
Expression
Forgiveness
Understanding
Purity
OC: Inspirations: Cults from all periods & ages, Thelemites, Hippies, Occultists
Dove Bird-Song is, in my head, a mix of choral singing, hymns, throat singing, and call and response.
- - -
Doves
Doves are the head representatives of both the White Hand & the Pillars of Light. Ascetic, tranquil, hopeful and forgiving, dressed in colourful, personal expression & freedom, Doves simply want the Coteries to agree - one step at a time. Dove Birdsong is beautiful, and a full Chorus of hand-linked Doves casting their Birdsong can be utterly enchanting. Radical Doves believe in the power of Aiwaz the protector - the voice of Freedom which shields the willful. Rumours of Doves being able to empower another with the full power of The Chorus have been noted, though many simply believe this is the effect of mystifying Dove Birdsong.
Radical acolytes of the Cult Of The Pillars Of Light, Doves fully accept the transcendental teachings of The Pillars, and embrace their position of spreading the teachings of Bliss, Love & Freedom as far as they can. From lowly Radicals, come those seen as Pushers of Bliss and Love, suppliers and preachers and stockists combined. And above them, the divine figureheads, those chosen to lead us to True Spiritual Freedom.
Visually indistinct except for their mannerisms and perhaps (in the Case of self-identifying Radicals) in their dress sense, Doves of specific roles are difficult to spot. The Chosen are the Deacons and Defenders, those that tend and care for their Brothers and sisters less fortunate to prove themselves. The Ascendant are the Psychopomps and Voices, Leaders whose calming or firey words can motivate entire Dove Coteries to accept or deny aid to allies as quickly as the will of The Chorus changes.
Radical Doves wear whatever clothes they have access to - tie-dyes, rags, furs, dresses made from curtains, etc, usually in bright mixed colours. Some Radical Cults appear as mixed as Rabble, some as uniformally well-dressed as upper-class pigeons.
- -
Dove Cultist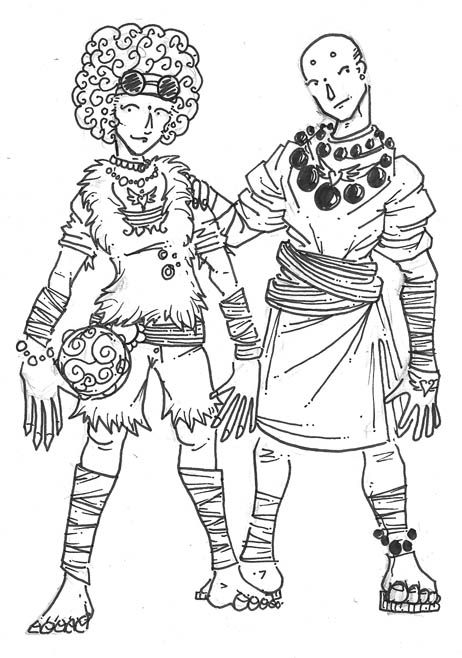 Type: Pawn
Plumage: White
FacePaint: White Brows. Uniform Religous Symbol on forehead - Same on all Doves in same House.
Beak: White Small.
Emotion: Bliss
Oppurtunities: Religous Fanatic, Wandering Healer, Choir Singer, Good Samaritan, Hippy Activist, Cultist, Flagellant
Qualities: Quick, Quicker, Emotionallist
- -
Dove Pusher
Type: Bishop
Plumage: White
FacePaint: White Brows. Uniform Religous Symbol on forehead - Same on all Doves in same House.
Beak: White Small.
Emotion: Bliss
Qualities: Blissful, Emotionallist
- -
Dove Figurehead
Type: King
Plumage: White
FacePaint: White Brows. Uniform Religous Symbol on forehead - Same on all Doves in same House.
Beak: White Small.
Emotion: BlissQualities: Oratorism, Fancy, Emotionallist
- -
Flock
Like the Green (and now, Red) Rabble,
Flock
are made up of all the smaller Winged - Sparrows, Tits, Starlings, Finches. Unlike their more Radical Dove Brethren in the Pillars, Flock aren't really here for the transcendence and enlightenment: they're here for the relaxation and the good times, man! Although many do reach a state of Zen, claiming to see things that aren't there and hear voices, this is probably less to do with the Spiritual Purity, and more with the large amounts of Bliss converted into "Good Time" Songs.
Flock wear what they have access to. Don't get all up in their grill, man.
Type: Pawn
Plumage: Any Colour
FacePaint: Colour on Cheeks
Emotion: Bliss
Qualities: Quick, Emotionalist, Merchantillier
- -
Free
The Pillars Of Light consider Freedom to choose and act one of life's greatest gifts, so there is no surprise that many Winged from other Coteries flee to the Cult, abandoning their previous lives and occupations. Superfluously similar to the Urban, these progressive agents of enlightenment take a lay approach to transcendence, often focussing on the occult and spiritualism, and the Dreamers' beliefs on these.
Free
wear much the same as Urban or those of the Dirt: dresses and smart clothes, often with the addition of occult jewelry or pendants.
Type: Pawn
Plumage: See Previous Winged
FacePaint: See Previous Winged
Emotion: Bliss
Qualities: Emotionallist, Stalwart, One more from Previous Winged
- -
Grackle
Although not true Corvids,
Grackle
are found most often amongst the company of their cousins the Jays, or nowadays, amongst the Cult of the Pillars. Couriers, runners, interlopers and ambassadors, they are friendly, good humoured and have very good relations outside the Veil & MiniTru, especially with Rabble in The Green, the Urban of the Dirt, and have even been known to serve within the Raptors of House Aquilla. Easily identified by their bell-like laughter and predication to leathers, what truly sets Grackle apart is their independence - even as part of a House or team, Grackle do what they like, when they like, with whom. This makes them especially valuable to MiniTru, who value the Despair that can be wrought and monitored by an independent Agent.

Grackle love to act as insurgents, spreading messages of change and spite, and delighting in the chaos caused.
Grackle love Leathers, which they view as both stylish and practical. They also, like Jays, have a predilection for small fire-arms. Some like to dye blue streaks in their hair.
Type: Pawn
Plumage: Black
Beak: Small Yellow
FacePaint: Blue spoarkles over eyes / down cheeks
Emotion: Bliss
Qualities: Armoured, Pistolsman, Quick
- -
Swifts
Previously a distant part of the Church of the White Hand, the chatty, open & free
Swifts
quickly agreed with the policies of the Cult Of The Pillars Of Light, and joined their ranks. Swifts have individualized beliefs and life goals, each believing that Enlightenment is achieved by reaching this goal: whether it's to succesfully convert a 100 people, save a 100 lives, dodge a 100 bullets, or cook the world's greatest meal. Self-sacrificing, free-talking, but ultimately passionate. Dancers, Couriers, entertainers - Swifts never stay still for more than a moment; a moment still is a moment wasted.
Swifts often wear a mix practical wear & billowing silks - the better to accentuate their movements.
Type: Pawn
Plumage: White or Brown
FacePaint: Red or Green on Forehead
Emotion: Bliss
Inspirations: Farmers, Yeoman, Factory Workers, Navvies
Opportunities: Fighting Champ, Trade Unionist, Heavy
Qualities: Quick, Hardy, Knifeman
- -
Bantam
Yoga and Tantra Masters,
Bantams
are devoted to physical enlightenment through scarification, self-mutilation, cannibalism and violence. They believe peace and Bliss only come from discarding earthly terrors, and the best way to shed this earthly coil of creation & destruction is to embrace it, live it, and reject it from your heart. To them, all actions are physical, mental, and spiritual; everything said, done or proposed has ripples both physical and spiritual. If a Bantam is commanded by someone who has earned it's trust, it will obey, regardless of the action: murder, mutilation, self-cannibalism.Only by embracing this animal, can they exhibit not only to the world that each action has repercussions, but to themselves that they are spiritually above these actions, unsullied by them. As sinners, they carry the weight for their unmarked brethren.
Bantams despise the gregarious nature of the Partridges, and feel their faith is hollow & false. They wish to bring more Chickens, Grouse & Quail over to the Pillars' cause of Spiritual Freedom.
Bantams wear little more than loincloths, tattered robes, or whatever their Cult offers them.
Type: Knight
Plumage: White
FacePaint: Red Eyes-area
Emotion: Bliss
Qualities: Hardy, Hardier, Taloned, Reaverist, Stalwart
- -
Whipoorwill
Like Nightengales,
Whipoorwills
are psychopomps and seers... but they focus on omens, the lingering shadow of embracing death, and the freedom that comes with release. Whipoorwills feel death is the way to enlightenment, and know it is the final step to freedom, embracing the morbidity of finality and the Bliss of Cold, Final Purity. Occultists of The Cult Of The Pillars Of Light, Whipoorwills embrace Near-Death-Experiences, and find beauty in symbols and images of death.
Whipoorwills surround themselves with death omens. Their clotrhes are often old, stained and dusty. Posh suitys gone to rot or never-removed Wedding Dresses.
Type: Bishop
Plumage: Dark-Brown
FacePaint: Dark-Brown Stripe across eyes
Emotion: Bliss
Qualities: Fearfulism, Oratorism